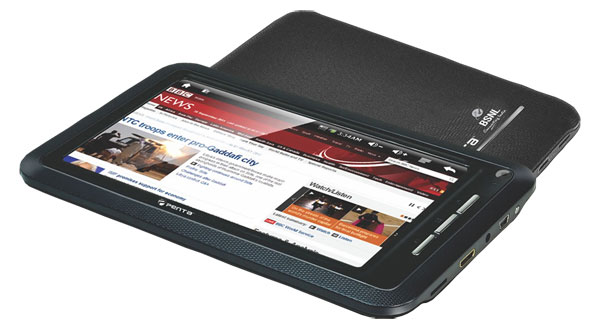 Processor:
The processor in comparison to Aakash tab is much better as Ubislate 7 operates on 700 MHz processor.
Integral HDMI port:
This Tablet has an Integral HDMI port through which one can directly connect to a LED or LEC monitor or any other gadget that supports HDMI port.


Inbuilt camera:
T-Pad IS701R has an inbuilt camera of 0.3 mp which is not available in Aakash Tabs. Although not a high graded camera latest it is there.


A complete android market shore up:
In comparison to Aakash Tab, this tablet is a complete android market shore up which means one now not only owns a tab but can also download games and connect to the internet.


Better screen resolution:
You can now view pictures more clearly with T pad IS701R as it comes with a better screen resolution of 800*600 than Aakash Tabs which has a resolution of 800*480.


Enhanced gaming experience:
T-Pad IS701R comes with a G-Sensor which now allows you to play 3D games and rotate the screen. Get an enhanced gaming experience for a much cheaper price in comparison to those expensive tabs like Samsung Galaxy, Sony, etc. This tablet also supports Adobe Flash 10.3.


Price of BSNL Penta T-PAD IS701R in India is Around Rs.3,250/-
The price is valid in all major cities of India including Delhi, Chennai, Bangalore, Kolkota, Hyderabad, Mumbai, Gurgaon, Noida and Pune